Window Cleaning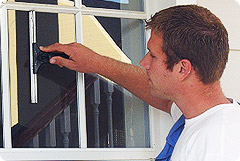 Window Cleaning was the first service Testerman's provided in our early days. It's still a favorite service to our customers!
Usually we do inside and out, but occasionally folks will prefer just the outside cleaned.
We also provide a service where we do a detailed cleaning at approximately $1.50 per screen.
Many of our customers appreciate our scheduled cleaning; we call you back to let you know it's time for your next cleaning. You can experience squeaky clean window year around. This option allows you to choose a 1, 2, 3 or 4x per year schedule.
We scrub the glass by hand with our special strip washer. Then using a professional squeegee we remove the water leaving you a clean and spotless window to enjoy! It's amazing how your home will brighten up after professional window cleaning!