Pressure Cleaning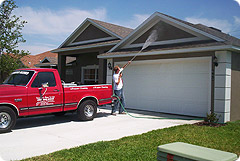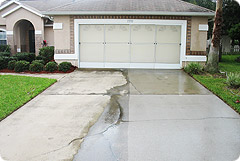 Pressure Cleaning is something that is a "must" for us who live here in Florida. With an abundance of rain and humidity, we must keep up with cleaning our homes, porches, driveways, and pool areas. Mold grows on almost everything and it will actually EAT THE PAINT right off the surface it is on after a while.
Mold and algae growth can keep your homes moist, leading to wood rot and paint failure. This is the reason we require all homes that have been painted by Testerman's to be pressure cleaned once a year if they wish to maintain their warranty. Also removing the bugs and spiders in an important step in the cleaning process.
Pressure Cleaning saves a lot of time and does a far superior job to scrubbing or washing by hand. It's amazing to see the difference before and after pressure washing the eaves, pool deck, sidewalks & driveways!
On homes with siding we provide a safe and gentle wash that cleans ALL the mold and dirt off the house while keeping your siding protected and secure.