The Villages Ultrasonic Blind Cleaning
How Ultrasonics
Work
The Cleaning
Process
Before/After
Photo Gallery
Welcome!
Serving The Villages
and Lady Lake
"Rebuilding the good reputation of service professionals one customer at a time."

Courteous, Quiet and On-Time Workers

352-242-0181
Phone Calls Returned Promptly

Serving the Central Florida for over 8 years
with over 1000 satisfied customers.
Ultrasonic Blind Cleaning is an amazing technology that cleans your blinds and returns them to like new condition! Thousands of gentle bubbles and water vibrations caused by ultrasonic frequencies clean the dirt and grime off of your blinds.
It even cleans the clothe cords making them like new. We have a state of the art, on-site trailer fully equipped to do professional cleaning at your home and re-install them immediately.
You don't have to worry about taking down your blinds and hauling them off someplace and then going to pick them up and re-hang them. We do it all for you. Simple, easy, and great results.
As certified ultrasonic blind cleaners, Testerman's Home Services has the training to clean and repair mini blinds, vertical blinds, pleated shades, cellular shades, silhouette shades, luminettes, viginettes, faux wood and real wood blinds.
Would you like your blinds to be as clean as the day they were new? It's now possible! Your blinds are guaranteed to become so clean they will actually have a glow to them.
This is not just doing a good job of dusting and wiping down your blinds, no, we safely remove your blinds, bring them out to our fully equipped mobile trailer, we then put them through our ultrasonic system and rehang them leaving them cleaner than they've ever been!
We welcome our customers to step outside and watch the machine work as we do the cleaning, people are always amazed at the amount of dirt and filth that comes off each blind right before their eyes as they watch them being cleaned.
Not only do you dramatically improve the look of your blinds, but you also improve the air quality in your home. Ultrasonics removes all biological contaminants such as bacteria, odors, smoke/nicotine, pollen, mold, dust mites, pet dander and other germs that cause allergies.
About Us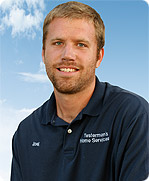 Joel Testerman
Member, Testerman's Home Services, LLC
Testerman's Home Services was started in Lake County by the Testerman family in 2001.
Before moving to Clermont, our father, Jeff Testerman had owned successful home service businesses for over 20 years. Raising a family of 12 children, Jeff brought each of his boys up in the business. He taught by example to work hard, provide quality work, and courteous service. These have been and still are the foundations of our business.
These important lessons and training have helped each of Jeff's sons, in time, grow their own successful businesses. Our work ethic has always been based on the principle of 100% Customer Satisfaction. We're not happy until you're happy.
Once in central Florida, the family business took right off and began to build a solid reputation in the Lake community. We have always provided the highest quality work, reasonable prices, and a name that can be trusted.
Great referrals and happy customers have continued to propel Testerman's Home Services to higher levels each and every year.
Testerman's continues to grow in the quality of their customer service, and are always looking for better ways to improve their work. Because of our focus on pleasing you, the customer, we have over 1000 customers in South Lake County.

We have expanded our homes services to include: House Washing, Window Cleaning, Ultrasonic Blind Cleaning and House Painting.